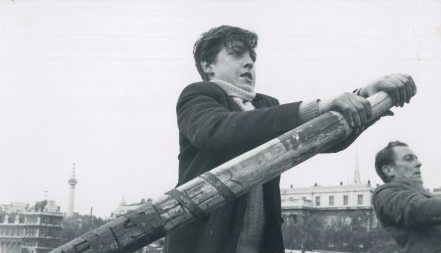 2015 / Oct / 20
LONDON LIVE ACQUIRES & PREMIERES CLEARSTORY DOCUMENTARY 'MEN OF THE THAMES'
PRESS RELEASE
Tuesday, 20th October 2015
LONDON LIVE ACQUIRES & PREMIERES CLEARSTORY DOCUMENTARY 'MEN OF THE THAMES'
London Live, the capital's TV Channel has acquired ClearStory's one-off documentary that takes a behind the scenes look at three Watermen families who work on the River Thames, it was announced today (TUES).
The hour-long film, titled 'Men of the Thames,' was filmed in the run-up to the Queen's Diamond Jubilee, and follows London's Watermen, a close-knit community proud of their royal connections and ancient customs, who were once a powerful working-class tribe. Yet times have changed, and they're now faced with their jobs drying up, and their traditions being under threat.
The film leads us into the hidden world of these Watermen families, the Cockney men who found the Diamond Jubilee a bittersweet year, as they are reminded of the world they lost when London's docks shut down, and EU directives began to challenge their 450-year-old tradition of apprenticing their sons into the river trade. The documentary sees what's left of the historic way of life that is fighting to survive.
Russell Barnes, co-director of ClearStory said: "We are so pleased to be telling the story of Watermen families who have worked on the River Thames for generations, with a unique history and camaraderie. It's great to be able to shine a light on a rich world that, so often, busy London commuters just don't notice as they cross the river. This is about real people experiencing upheaval in a fast-changing city, while trying to hold on to the traditions that have defined them and their families."
Lucy Myers, Programme Director for London Live said "We are thrilled that we are premiering 'Men of the Thames' and offering Londoners an opportunity to learn about the history, traditions and stories of London's Watermen. The documentary is both fascinating , engaging and educational and should not be missed!"
'Men of the Thames' will premiere on Friday 6th November at 8pm on London Live – Freeview 8, YouView 8, Sky 117 and Virgin 159
-ENDS-
DRG are the international distributor of the title. For further information please contact Effie Dufu on 020 8995 3945 or effie@plankpr.com
NOTES TO EDITORS
About Clear Story
Clear Story is an independent television company set up in 2010 by Russell Barnes and Molly Milton. Known for documentaries portraying powerful human stories and for authored series tackling big ideas on history and science, they create ground-breaking ideas and deliver strong, talk-about content for both broadcasters and advertisers.
About London Live
London Live is London's first TV channel, offering Londoners the latest in arts, news, current affairs and events. London Live launched 31st March 2014. It is available on Freeview 8, YouView 8, Sky 117 and Virgin 159. London Live has now shown 15 months of consistent growth across the key measures of reach and share of viewing and was watched by 2.3 million Londoners in July, that's 24% of all Londoners. In July London Live outperformed many channels in London, to mention a few:- Bigger than Comedy Central, FOX, Spike, Sky Atlantic and Discovery. London Live's weekly reach is about the same size as Absolute Radio' which is the 5th biggest London station in terms of weekly reach, The 960k weekly reach is more than twice as big as BBC London 94.9 and higher than the combined reach of XFM, Capital Xtra and Gold. London Live is owned by ESTV which is 100% owned by Lebedev Holdings.