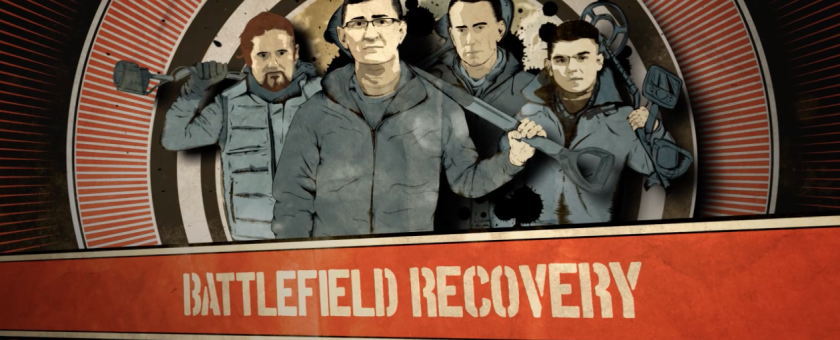 2016 / Apr / 22
BATTLEFIELD RECOVERY MARCHES ON
ClearStory welcomes Ofcom's announcement on Battlefield Recovery – a vindication of the production team's journalistic principles, the work of the cast and our local partners in Eastern Europe.
ClearStory often explores edgy subject matter – and we anticipate robust responses.  When we made Gypsy Blood, a documentary about gypsy fathers and sons, we received a barrage of racist abuse from anonymous callers.  Sex Box, a series that attempts to talk more openly about sex, proved controversial enough to become a worldwide no.1 trend on Twitter. One commentator in the Spectator, seemingly lost the plot, comparing Sex Box to the cultural vandalism perpetrated by IS in Palmyra. 
But these critiques were tame compared to what social media threw at us when we produced a series called Battlefield Recovery about World War Two's Eastern Front.  
The series looked at the excavation of bodies and military materiel in Eastern Europe but did not take an archaeological approach. World War Two recovery work in many parts of Eastern Europe is being shouldered, not by archaeologists, but by authorised volunteers, and we wanted to highlight their work and bring it to life for a wider audience.  We are proud of the result.  During the production, we successfully helped to recover and repatriate three soldiers in Latvia and thirty-six soldiers and civilians in Poland. 
As a television production company, ClearStory is in the business of creating informative and entertaining programmes, trying to reach new audiences and open up dialogue and curiosity.  We take compliance with the UK TV regulator Ofcom's rules very seriously and make our programmes in compliance with Ofcom's broadcasting code.  While we hope viewers enjoy our programmes, we don't expect all of them to do so and know that they exercise a free choice with the off button. 
But, when Battlefield Recovery was scheduled for UK broadcast by Channel 5 in January 2016, we found it subjected to an orchestrated online campaign by a small but noisy group of bloggers, purporting to speak for archaeology, who wanted it taken off air before they or British viewers had the chance to watch and make up their own minds.
'Death porn', 'exploitative', 'grave robbers', 'looting', 'scam', 'greed and acquisition' – these were some of the misleading and unfounded accusations thrown at the series, amongst inaccurate and often extraordinarily acrimonious amateur and academic blog pieces.
Some of the bloggers had form. They'd hounded and derailed the series at an earlier stage when commissioned by another channel.  Their attacks whipped up such an online fury at that point that cast members even received death-threat tweets: 'I'm going to get you killed'. 
In January 2016, the renewed attempt to shout the series down failed.  Channel 5 stood firm.  But a handful of the bloggers then tried a new tactic, agitating on Twitter to generate as many complaints as possible about the broadcast to Ofcom.  
In this way Ofcom received 175 complaints over the course of the four episodes.  This was not a spontaneous audience reaction to the actual content.  Set against those 175 complaints, 700,000 viewers freely chose to watch each of the first two episodes of the series and around 450,000 watched each of the second two instalments at a later slot.  
Quite rightly, Ofcom has dismissed the complaints made against the series [Broadcast Bulletin #300], concluding they did not raise issues which warranted investigation. In vindication of the careful approach taken in our programmes, Ofcom found that: 'The series dealt effectively with potential audience concerns about the contributors' methods. It made clear that the specific practices adopted were undertaken within recognised protocols. Scenes that featured human remains were dealt with sensitively, and the contributors appeared visibly moved by their discoveries.'
One of the pitfalls of the Internet is 'confirmation bias'.  It's a theme we explored when making the 2010 BBC2 series, Virtual Revolution, which charted the history of the World Wide Web. The Internet allows true believers in any cause to get lost in a feedback loop of their own making. Working each other up and listening only to others who reflect and confirm their own views, they become more and more entrenched in their convictions, even if they're wrong.  
Television production in the UK is rigorously regulated and programme-makers have to comply with Ofcom's detailed code of practice.  By contrast, of course, the Internet is a largely unregulated space, subject to all kinds of unchecked manipulation, defamation and delusion.  
With Battlefield Recovery, we watched an online mob form, get itself over-excited and, heady with its own rhetoric, attempt to shut down responsible free speech and expression.  Fortunately it did not have the power to do so. More thoughtful real-world minds prevailed this time.  But it's sobering for television producers like us to see how quickly shrill and unwarranted demands for censorship can build within the virtual world's echo chambers.