Series 2
Channel 4
Distributor: DRG TV
Format: 4×60' SD HD
Pick Of The Day & Week – The Times, The Guardian, The Telegraph, The Sun, The Evening Standard, Metro
Who said Britain was buttoned up?
Sex Box is back – bigger, bolder and more entertaining.  Presented by Steve Jones and the outspoken Belgian sexologist Goedele Liekens, the new Sex Box is packed with insight, laughter and practical advice – and a series of sexual and televisual firsts.  Couples go into the box to try a sexual fantasy or new position for the very first time, then come out and talk to the presenters and the studio audience.
The couples are coached by Goedele, who shares her expert tips on sexual techniques and desires.  Meanwhile Steve Jones casts a humorous eye on the action.  He also reviews the latest weird and wonderful sex news from around the world.
With a specially commissioned survey of sexual attitudes and how-to visual guides to sexual techniques, the series tells you all you ever wanted to know about sex but were afraid to ask. 
Sex Box is a unique television experience that gets us all talking more openly about sex and shows us how to have more fun in the bedroom.
RECENT PRESS
Repressed? You Brits are getting better now

"Would you?" Goedele Liekens's question is characteristically direct. She is asking if I would consider entering the "sex box" .

Sex Box returns to Channel 4 with Steve Jones and Goedele Liekens

"Britain has a reputation for being tight-lipped and abashed when it comes to talking about sex. And yet despite that, Channel 4 keep proving that we're more than interested to watch and learn with its open and candid documentaries".

Why Sex Box might be just what blushing Brits need

"Thanks to Belgian sexologist Goedele Liekens, the Channel 4 format could be a step towards a more open, grown-up way of talking about sex, says Ellie Walker-Arnott".

Channel 4's Sex Box is vandalising our culture

I consider this sort of thing a form of cultural vandalism, rather like what Isis got up to in Palmyra.
Series 1
Channel 4
Distributor: DRG TV
Format: 1×60' SD HD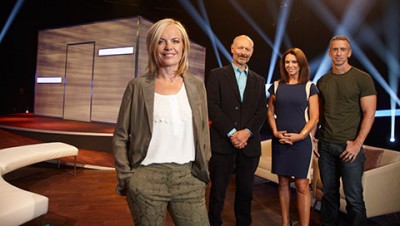 A new Channel 4 sex talk show with a difference. In a unique television format inspired by the work of sex researchers, three couples have sex inside the Sex Box and then talk about it immediately afterwards with show host, agony aunt Mariella Frostrup, in front of a studio audience and with a panel of experts (internationally syndicated sex columnist Dan Savage, sex body-language and relationship expert Tracey Cox and psychotherapist, broadcaster and author Phillip Hodson), while their feelings and sensations are still vivid and truthful.